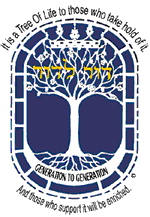 Home


About Us


Mission Statement


Leaders & Advisors


Events


Resources


Educational Links


Inquiry Form


Contact Information

The Story


The Scrolls Trust


Cemetery Restore


The Library


Reunions


The Czech Torah Network, Congregation BCC, and HBO Joined for an Evening of Celebration and Remembrance, November 12, 2005, at the Leo Baeck Temple, Bel Air, California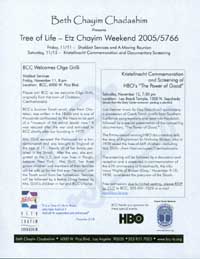 Click image to view the official event invitation
Los Angeles, California- Saturday, November 12 - More than 400 people came to honor Torah scrolls rescued from formerly Nazi-occupied Czechoslovakia on the 67th anniversay of Kristallnacht, the Nights of Broken Glass, widely viewed as the beginning of the Holocaust. The Czech Ambassador to the United Nations, His Excellency Hynek Kmonicek, welcomed those who gathered to celebrate the determination of the Jewish people.
More than two dozen temples particpated in a moving preocession of rescued Torah scrolls, which was followed by a rare public screening of The Power of Good, an Emmy Award winning HBO documentary about Sir Nocholas Winton, whose Kindertransport saved nearly 700 Jewish children by taking them from Czechoslovakia to England.
Congragation Beth Chayim Chadashim (BCC) served as the organizer for this event, having located through the Shoah Visual History Foundation a Holocaust survivor, Mrs. Olga Grilli, from the same hometown as the scroll that has been in BCCs care since 1973. Mrs. Grilli, who was resuced from her home in Chotebor, Czechoslovakia at age 11 on a Kindertransport, now lives in Poughkeepsie, New York, and attended the event with her family. The Czech Torah Network proudly co-sponsored the event with the cable network HBO and the Leo Baeck Synagogue.
"Tonight we celebrate life. We celebrate the Jewish communities that thrived before the war and the continuity of that life as represented by the Southern California congrations that are entrusted with the scrolls our forebears used," said Sylvia Sukop, who co-chaired the committee which organized the vent.
"This reunion gives BCC a human, personal link to our Holocaust Torah," added BCC's Rabbi Lisa Edwards. "Mrs. Grilli brings our Torah to life for us."
Leo Baeck Temple in Bel Air, among the many local synagogues to have a Czech Torah scroll, served as the host for the Torah procession and documentary screening.