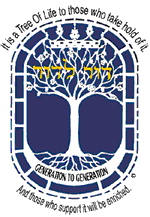 Home


About Us


Mission Statement


Leaders & Advisors


Events


Resources


Educational Links


Inquiry Form


Contact Information

The Story


The Scrolls Trust


Cemetery Restore


The Library


Reunions


The Jewish Journal of Greater Los Angeles Publishes Article, Rescued Souls and Torahs Meet at Shul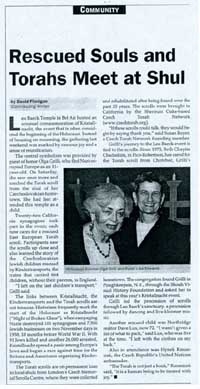 Click the image to view the Jewish Journal article
Leo Baeck Temple in Bel Air hosted an unusual commemoration of Kristallnacht, the event that is often considered the beginning of the Holocaust. Instead of focusing on mourning, the gathering last weekend was marked by raucous joy and a sense of reunification.
The central symbolism was provided by guest of honor Olga Grilli, who fled Nazi-occupied Europe as an 11-year-old. On Saturday, she saw once more and touched the Torah scroll from the shul of her Czechoslovakian hometown. She had last attended this temple as a child. Twenty-two California synagogues took part in the event; each now cares for a rescued East European Torah scroll. Participants saw the scrolls up close and also learned the story of the Czechoslovakian Jewish children rescued by Kindertransports, the trains that carried 664 children, without their parents, to England."I left on the last children's transport," Grilli said.
The links between Kristallnacht, the Kindertransports and the Torah scrolls are not tenuous. Historians frequently mark the start of the Holocaust as Kristallnacht ("Night of Broken Glass"), when rampaging Nazis destroyed 101 synagogues and 7,500 Jewish businesses on two November days in 1938, 10 months before World War II. With 91 Jews killed and another 26,000 arrested, Kristallnacht spread a panic among Europe's Jews and began a race against time for the Britons and Americans organizing Kindertransports.
The Torah scrolls are on permanent loan to local shuls from London's Czech Memorial Scrolls Centre, where they were collected and rehabilitated after being found over the past 35 years. The scrolls were brought to California by the Sherman Oaks-based Czech Torah Network (www.czechtorah.org).
"If these scrolls could talk, they would begin by saying thank you," said Susan Boyer, a Czech Torah Network founding member. Grilli's journey to the Leo Baeck event is tied to the scrolls. Since 1973, Beth Chayim Chadashim, in Pico-Robertson, has cared for the Torah scroll from Chotebor, Grilli's hometown. The congregation found Grilli in Poughkeepsie, N.Y., through the Shoah Visual History Foundation and asked her to speak at this year's Kristallnacht event.
Grilli led the procession of scrolls through Leo Baeck's sanctuary, a procession followed by dancing and live klezmer music. Another rescued child was Northridge realtor Dave Lux, now 72. "I wasn't given a list of what to pack," said Lux, who was five at the time. "I left with the clothes on my back." Also in attendance was Hynek Kmonicek, the Czech Republic's United Nations ambassador.
"The Torah is not just a book," Kmonicek said, "it is a human being to be treated with joy."